Clover Flex – $399
1.59% & $.40 per authorization + $39.95 a month*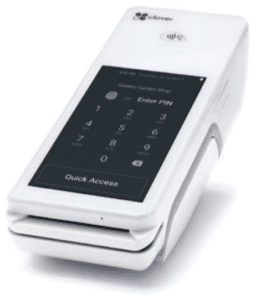 Wireless POS system

Next day funding

Clover Security
24/7 Customer Service

EMV capable

Dedicated account rep
Clover Flex Wireless POS
With Clover Flex you can take a powerful POS system anywhere you are going.  Don't be tied down to one place.  With the built in printer you can obtain signed receipts on the spot.
Uses
1.  
Counter-top or handheld.
 Designed to sit comfortably next to your register or as a handheld.  Allows you to do business, take orders, manage inventory, and accept payments both a the counter and on the sales floor.
2.  Line busting.  Speed things up by taking orders, confirming inventory and accepting payments while your customers wait in line.
3.  On the road.  Because it is wireless, Clover Flex lets you do business wherever the job takes you.
4.  Service customers at the table.  No running back and forth to process a card, print the receipt, get signature, and tip adjust.  Your customer signs and tips at the table.
5.  Inventory management.  Scan items into your inventory from the stockroom or in the aisle.
Apps
You will have access to hundreds of apps that will help you grow revenue and manage your business.  Are you tired of doing sales tax or paying someone to do it?  We have an app for that.  Are you tired of synching your sales with Quickbooks?  We have an app for that.  Do you want to drip market to your customers through email or text?  We have an app for that.  Do you want to offer gift or loyalty cards?  You guessed it…we have an app for that.  The Clover app market is growing every day.
Features
Accept all major credit cards
Connect via AT&T SIM (US only), WIFI, or optional ethernet
Built in printer
Apple Pay & Android Pay
EMV
Clover Security
Long lasting charge
Checks (optional, call for details)
Barcode Scanner
Connect to kitchen printer via WIFI
Antimicrobial Corning Gorilla Glass touchscreen
Equipment Details
| Equipment | Details |
| --- | --- |
| Payments | EMV chip card reader |
| EMV-compliant NFC reader | 3-Track Magstripe |
| Display | Antimicrobial Corning® Gorilla® Glass |
| 5 inch screen | 1280px x 720px Liquid silicone rubber for improved impact (drop) performance |
| Power Source | Built-in 18.7-watt-hour rechargeable lithium-ion battery charges fully in less than 4.5 hours via Clover Charging Dock |
| Dimensions | H: 3.0 in - W: 5.5 in - D: 9.8 in |
| Weight | 1.5 lbs |