Clover Mini POS – $725

1.59% & $.25 per authorization + $19.95 a month*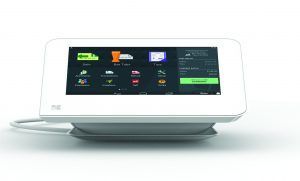 Wifi or Ethernet

100's of Apps

Clover Security
Power Your Business with Clover Mini POS

Step into the future and harness the Power of the Clover Mini POS.  It does everything your old terminal did and much more.  Credit cards, debit cards, EMV, checks (optional), gift cards (optional), and EBT.  It comes with a user friendly touchscreen, and runs via WIFI or Ethernet connection.  Clover Security comes standard to make sure your transactions are protected.
You Choose

With the Clover Mini smart POS system you can run your business however you choose. There are two plans. The Clover Register plan has no monthly cost in addition to the pricing above and runs as a regular terminal without access to the Clover App market. The Clover Register plan is $29.95 a month in addition to the pricing above and allows you to access to 100's of apps and the number is growing every day. It is up to you and you can switch back and forth any time you choose.
Clover Register

For those that want to take your business to the next level the Clover Register plan is the solution for you.  When selecting this bundle you get access to hundreds of apps in the Clover App store.  There are apps to manage employees, automatically pay sales tax, synch your sales with Quickbooks, and many others that can save you time and money.  There are also marketing apps that can help you grow your business.  Loyalty, Gift Card, and Check Guarantee are just a few of the other apps offered that can help drive more revenue to your business.
Clover Terminal

For those who are looking for a basic terminal that performs just basic terminal functions the Clover Mini is a perfect solution.  By selecting the Clover Terminal software bundle on the Clover Mini it will operate just as regular terminal you have seen for years.  Sales, refunds, authorizations, and batches can all be performed with this software bundle.
Clover Mini vs Old Terminal

| Old | Clover Mini |
| --- | --- |
| No EMV | 100's of apps & growing |
| Print receipt only | EMV |
| Small screen | Apple Pay & Android Pay |
| No apps | Print or email receipts |
| On screen signature collection | On screen signature collection |
| Ethernet or Wifi connection | Ethernet or Wifi connection |
Features and Benefits

Cloud based platform
Offline processing
Printed, Text, or email receipt
Remote access to reporting
Options for customer facing displays
Pre-built menu for restaurants
Equipment Details

| Equipment | Details |
| --- | --- |
| Hub | Charging port 4 USB ports Ethernet |
| Power source | Single cord |
| Security | PCI compliant |
| Connectivity | Ethernet & Wifi only |
| Touchscreen | Antimicrobial Corning® Gorilla® Glass |
| Scanning | Front facing camera. Bar code scanner optional |
| Counter top space | Base plate: 6.0 ft x 5.25 ft |
| Printer | Integrated thermal. 2.25 ft wide |